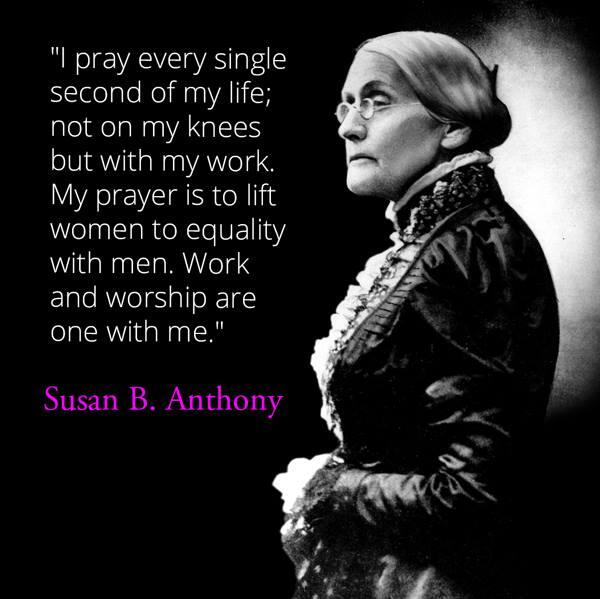 Women's Equality Day celebrates the certification of the 19th Amendment (Women's Voting Rights) on August 26, 1920. Nearly a hundred years later, the argument about the rights of women continues.
"When women are given the opportunity to succeed, they do. Younger women graduate college at higher rates than men and are more likely to hold a graduate school degree. They are nearly half our workforce, and increasingly they are the primary breadwinner for families. But too often, the women and girls who lift up our Nation achieve extraordinary success only after overcoming the legacy of unequal treatment. ...

In the 21st century, a mother should be able to raise her daughter and be her role model—showing her that with hard work, there are no limits to what she can accomplish. On Women's Equality Day, we continue the righteous work of building a society where women thrive, where every door is open to them, and their every dream can be realized."

The Amendment was ratified after more than 50 years of campaigning. The passage of the 19th Amendment fell to one vote: Representative Harry Burn of east Tennessee. 35 states had ratified the Amendment, it needed 36 to pass. The vote was being taken in the Tennessee House of Representatives and was tied at 48-48. Harry's mother, Miss Febb, sent him a letter imploring him to vote yes. Much to the surprise of his House colleagues, he cast the tie-breaking vote in favor of passage. He later admitted it was his mother's letter that sent him in that direction.
Each step taken toward equality is met with resistance for a variety of reasons, most of them embedded in resistance to change. Some, certainly, infused with a desire for power.
In my immediate circle, passage of the Equal Rights Amendment (for which I marched 40 years ago) is still a strong issue. As is the right of women in every Christian denomination to be ordained (focusing primarily on Roman Catholic and Mormon traditions). It is long past time for women to be fully equal.
Where do you stand on Women's Equality? What does the term equality mean to you? How do you resist full acceptance of the equality of others?