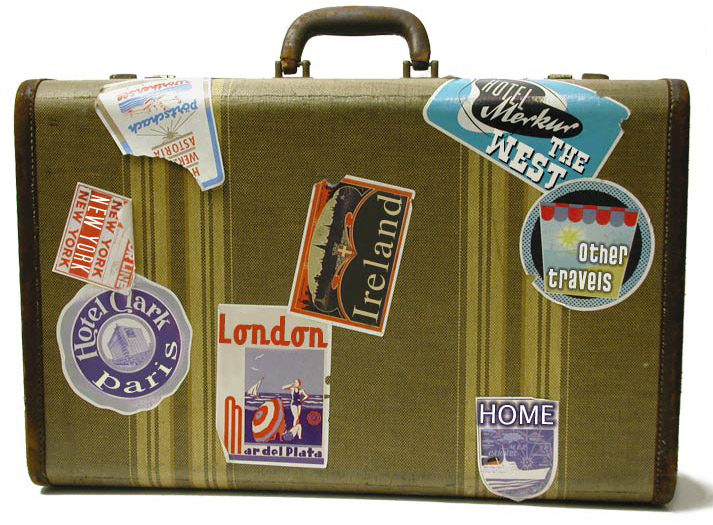 They should tell you when you're born: have a suitcase heart, be ready to travel.
~ Gabrielle Zevin








As a lover, reader, writer and dreamer of myths, the concept of a 'suitcase heart' strikes a chord. Whether my physical body moves from one place to another or my etheric body flies in the dreamtime or my psychic body journeys when I write, my heart is ever ready to travel. The gypsy call has sounded ever since I was a child. In the fifth grade, we had an assignment to write about our lives. Mine was titled "My Travels through Life" even though I was only ten at the time! My family went on a two-week traveling vacation every year. It was from these adventures that my childhood biography was written.

Through the years, some of my adventures have been simple day trips ~ to the Coast to wander the small towns, skiing on the Mountain, visiting a friend living in the woods, windsurfing on the River. Others have been longer and farther afield ~ a week in California, three weeks on the East Coast, ten days in Ireland, then days in China, ten days in Israel and the Occupied Territories. One, longer still, a year living in Egypt ~ with side trips to Turkey, Jordan and Palestine. I continue to look for places to go ~ waiting for the right timing and the movement of my heart in the direction of travel.

Many of my journeys have also been in the dreamtime as well as in shamanic practice. These journeys often leave me slightly off balance as I discover and uncover a new, deeper center. I remain open to the continuing adventures!

Where have you traveled? How have you gone? What is your favorite trip? Do you want to continue to travel? Where are three places you would visit? Do you have a 'suitcase heart'?